The Simple Way to Fill Your Spaces and Generate Extra Income
Simplify the rental process — from search through booking — to make space reservation easier for you and renters.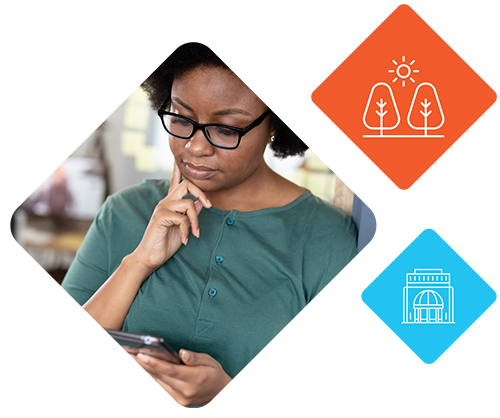 Rent Your Spaces With
Less Headache.
Here's how to automate bookings with Spotz.
1. Search
Search by address, organization, or facility name to find your space.
2. Claim
Claim your space if we've already listed it within the community, or add your listing.
3. Build
Complete your listing with facility details, amenity photos, pricing, availability, and priority booking settings.
4. Approve
Easily monitor incoming rental requests and approve or deny reservations.
5. Collect
Automatically collect payments electronically.
6. Prepare
Communicate with renters and ensure your space is perfectly prepared.
Save Time With Automated Reservation Requests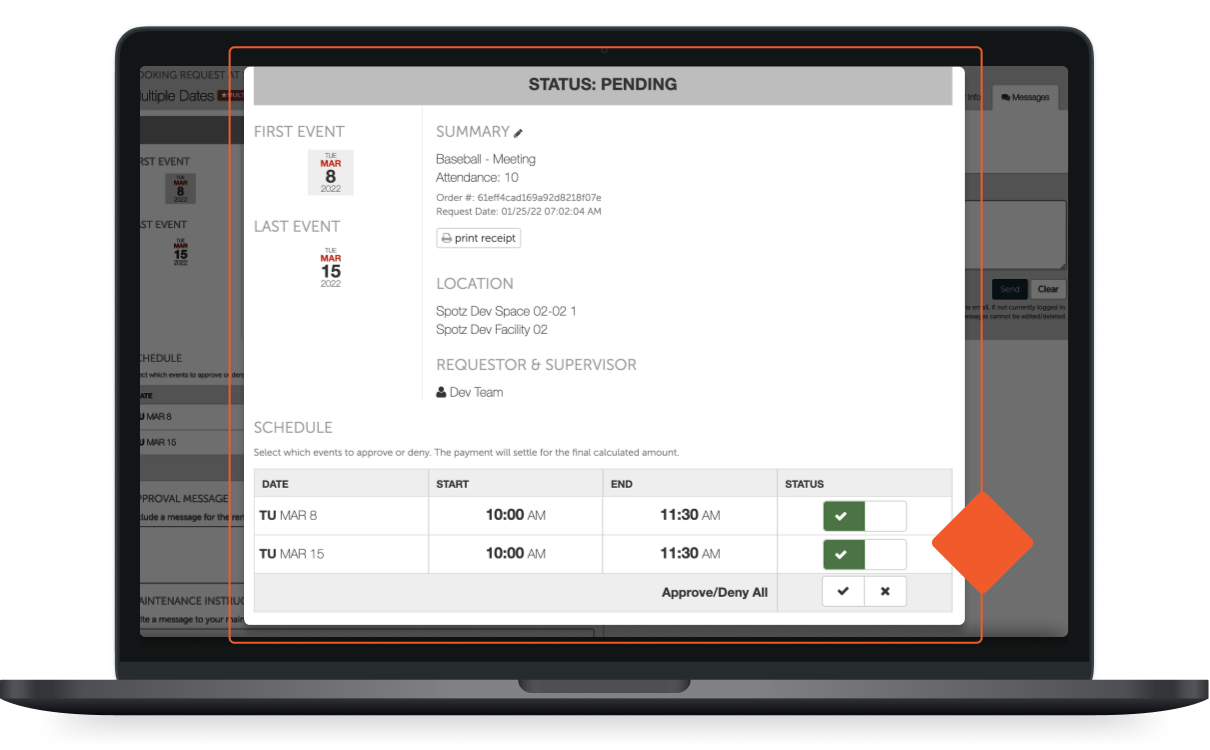 Self-service reservation requests reduce errors.
Let your customers do the work for you. They enter their information when they place a reservation request. When you approve the booking, those details transfer to your calendar automatically.
"Before Spotz, it took me 30-60 minutes to approve a single reservation. There were spreadsheets, piles of papers to sort, people calling all the time to ask if they got their space. The process was so tedious and slow. Now, people can request the space they want right away. It has opened up my time to assist other managers and be involved in more projects." - Jodi Saylor
Communicate Efficiently With a Cloud-Based System
Threaded messaging keeps everything together.
Find all communication with your renter in one place, attached to their reservation. No more sifting through emails or missing important details.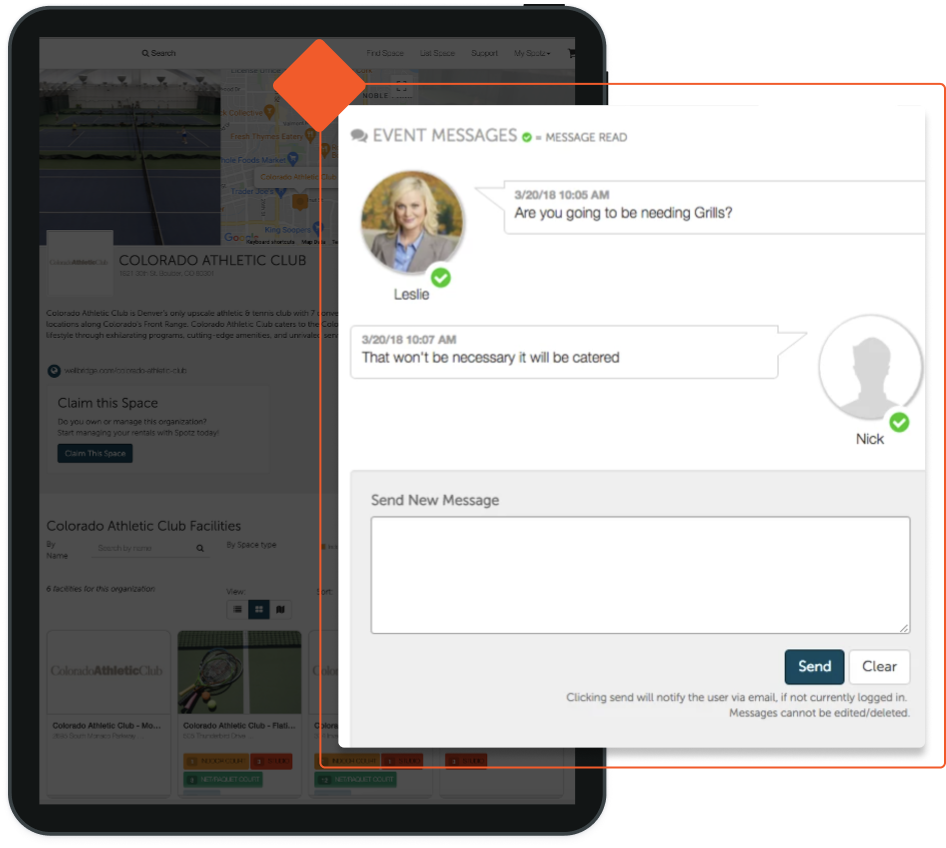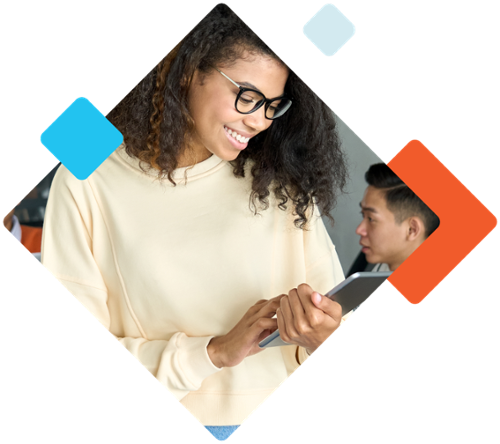 Information you need, wherever you are.
Log in to access important details or to read a last-minute message from a renter. Securely access your reservations from any computer, phone, or tablet with internet access.
Customizable user access levels keep all your staff in sync.
Grant access to the right people in your organization to view information about bookings, availability, reports, and customer communication.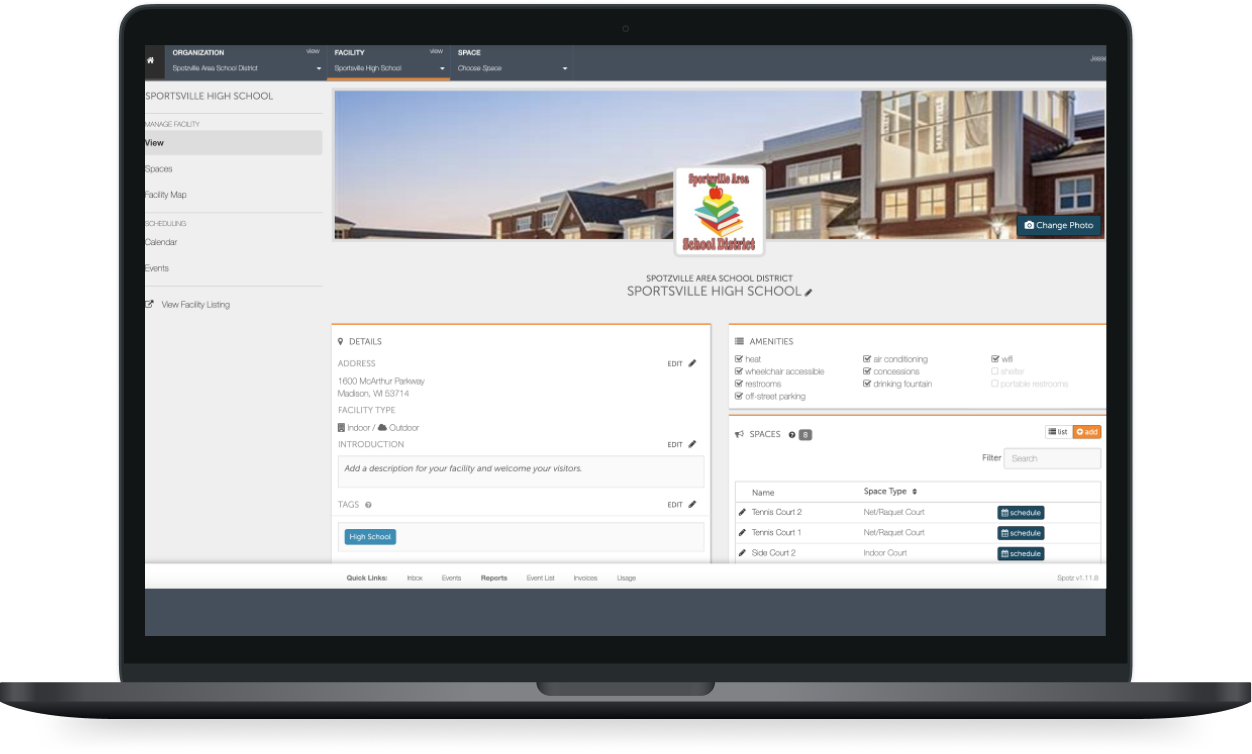 Regain Control Over Your Reservations Process
Approve or deny reservation requests with a single click.
You're in control of who uses your spaces! You can set the amount of time between reservation requests and approvals. Deny any request that doesn't meet your internal criteria.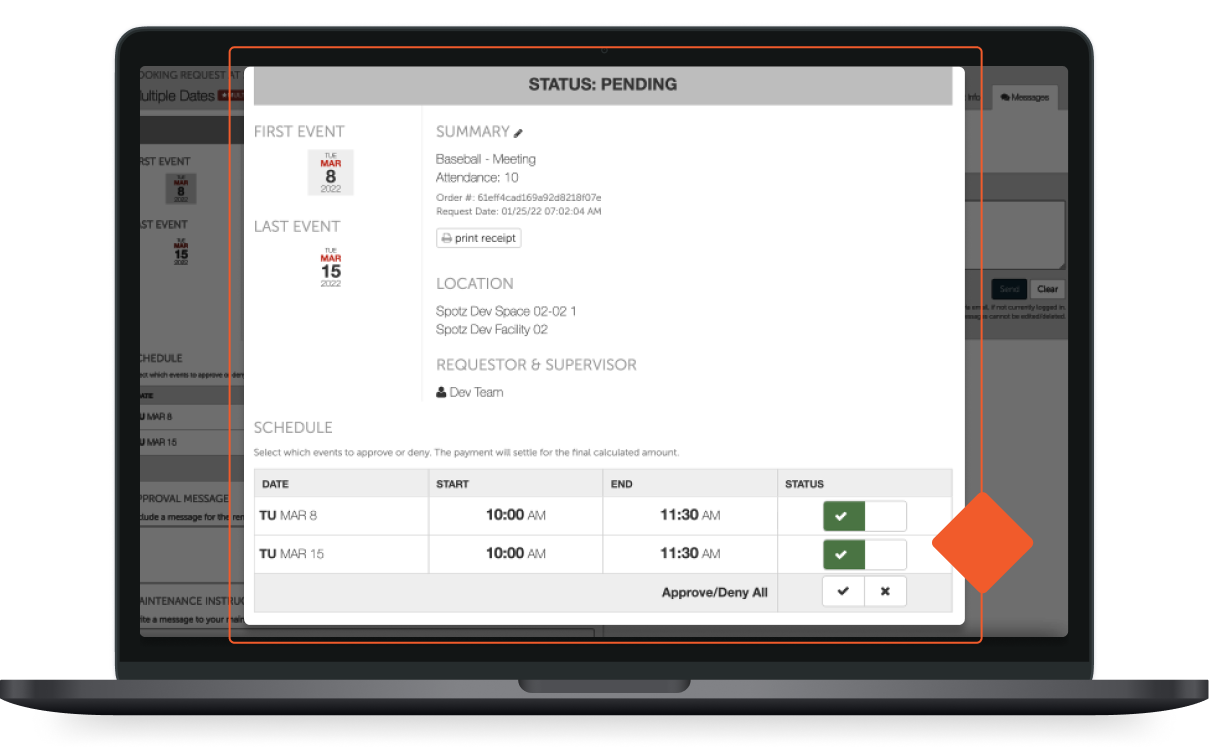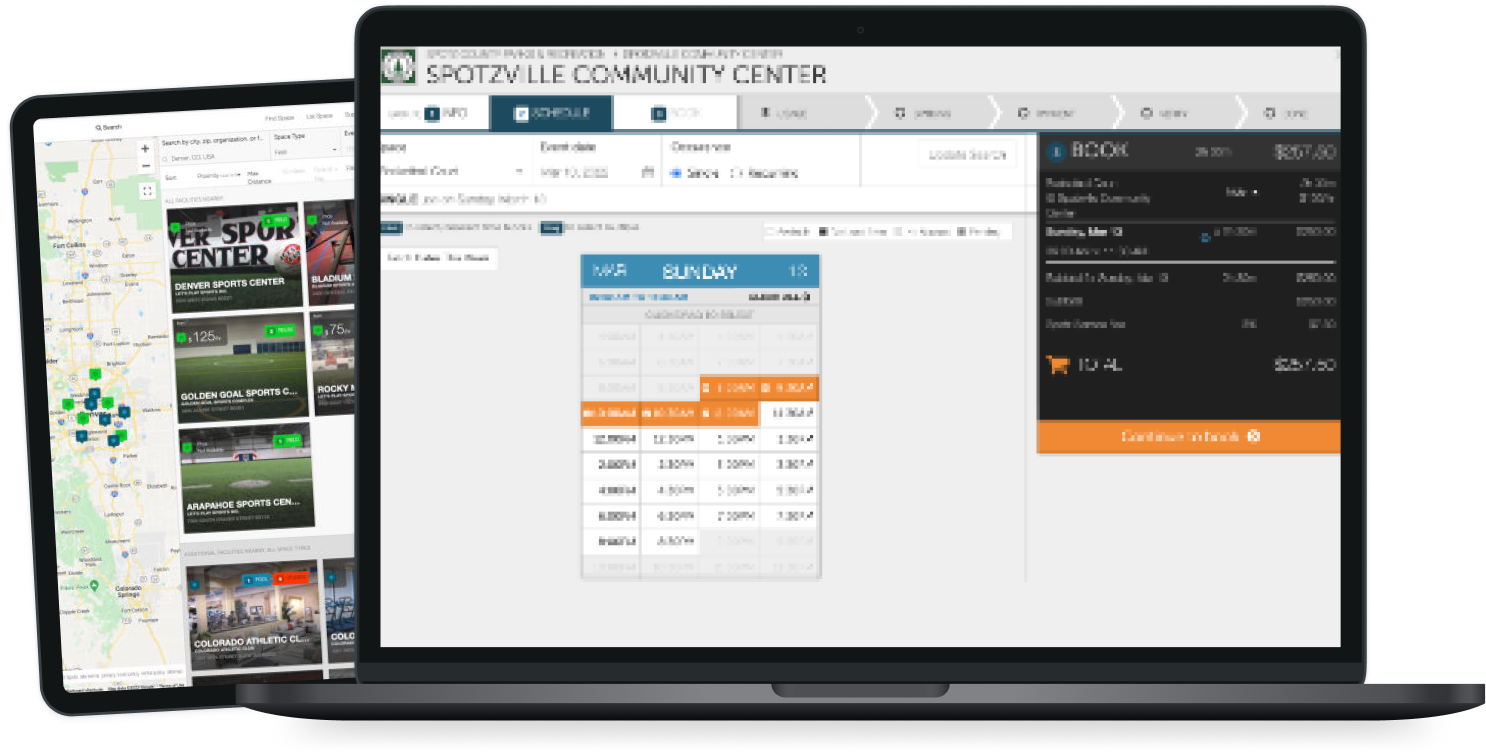 Maintain fewer calendars and eliminate double bookings.
Once a space is reserved, it's removed from inventory and won't show up in a renter's search.
Manage cancellations with ease.
Cancel some or all bookings on a given day with one click. Automatic notifications go out to all renters and generate refunds for those who paid through Spotz.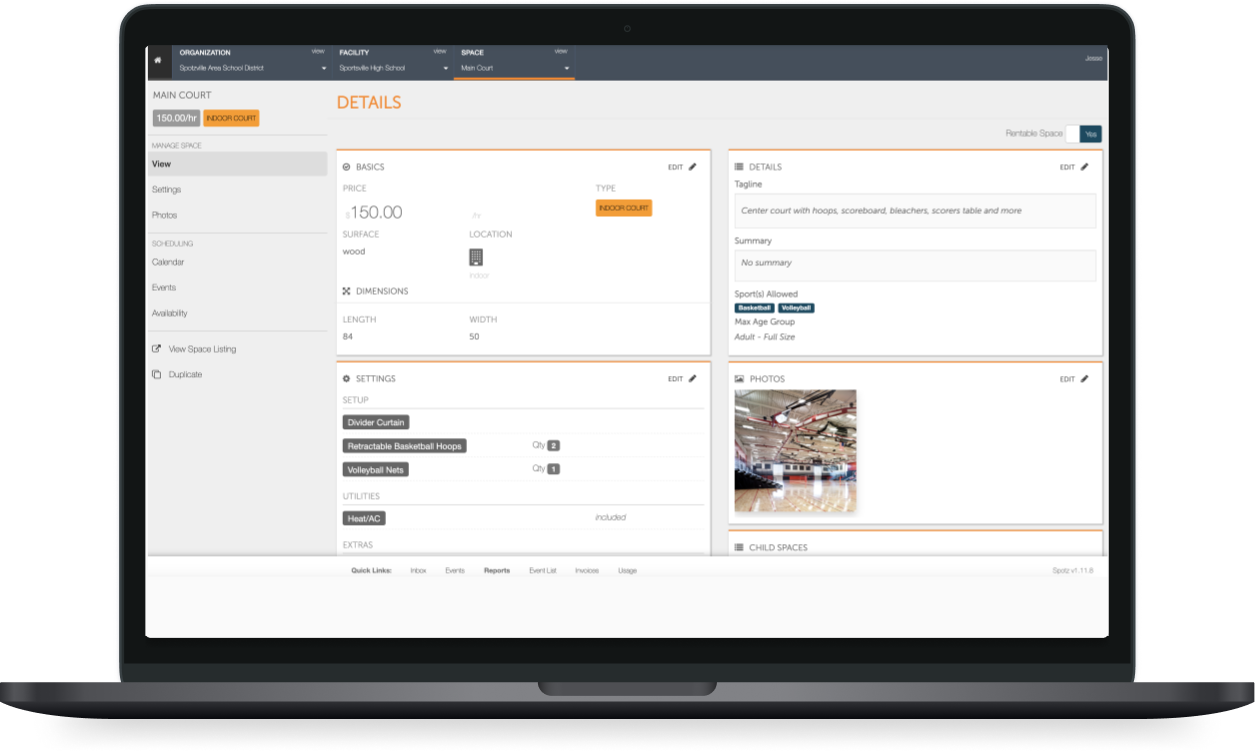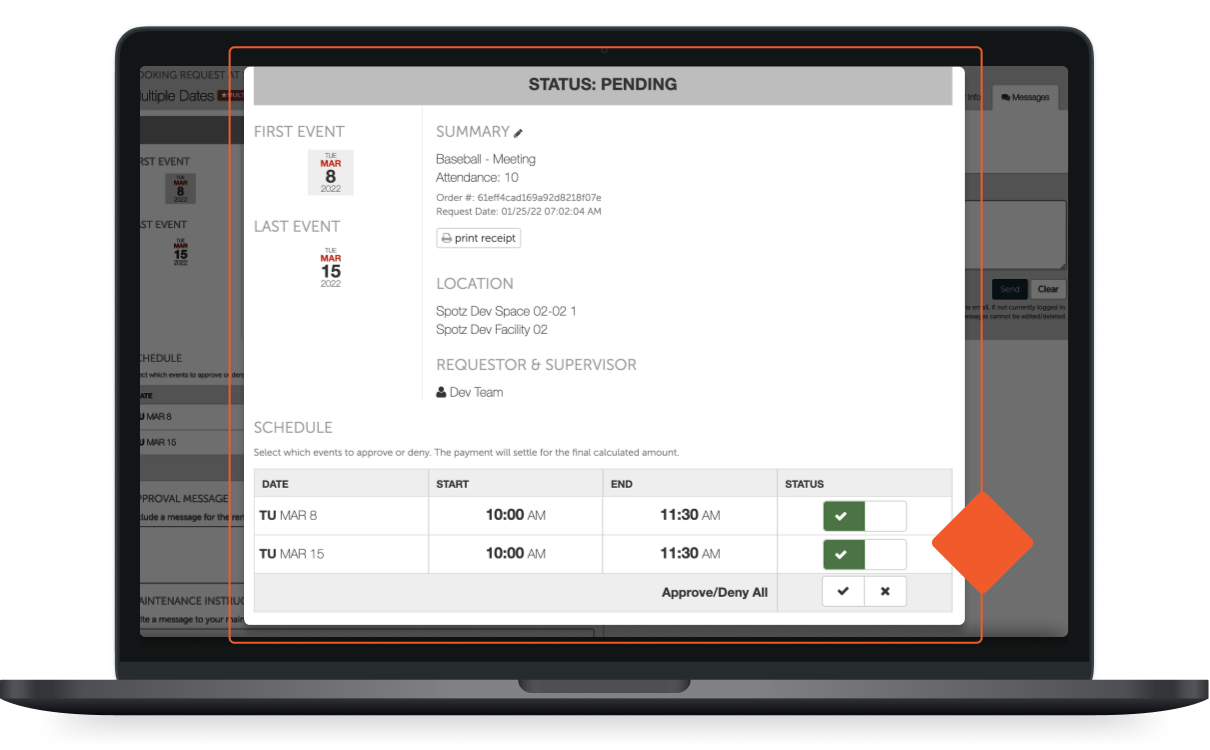 Set group priority levels.
Offer first right-of-refusal to specific groups before opening your spaces to the general public.
"Now my team and I can grant first right-of-refusal access to specific groups and then open up remaining spaces to the general public with minimal effort. We can increase the amount of rentable space to more audiences, faster. My team is no longer sitting on hundreds of requests and instead can focus our resources on creating better user experiences." - Mark Crosby
Increase Revenue Opportunities
List any type of reservable space.
Be creative. If a space can be reserved, you can host it on Spotz! You can carve that space up into as many reservable spots as you want and maximize usage.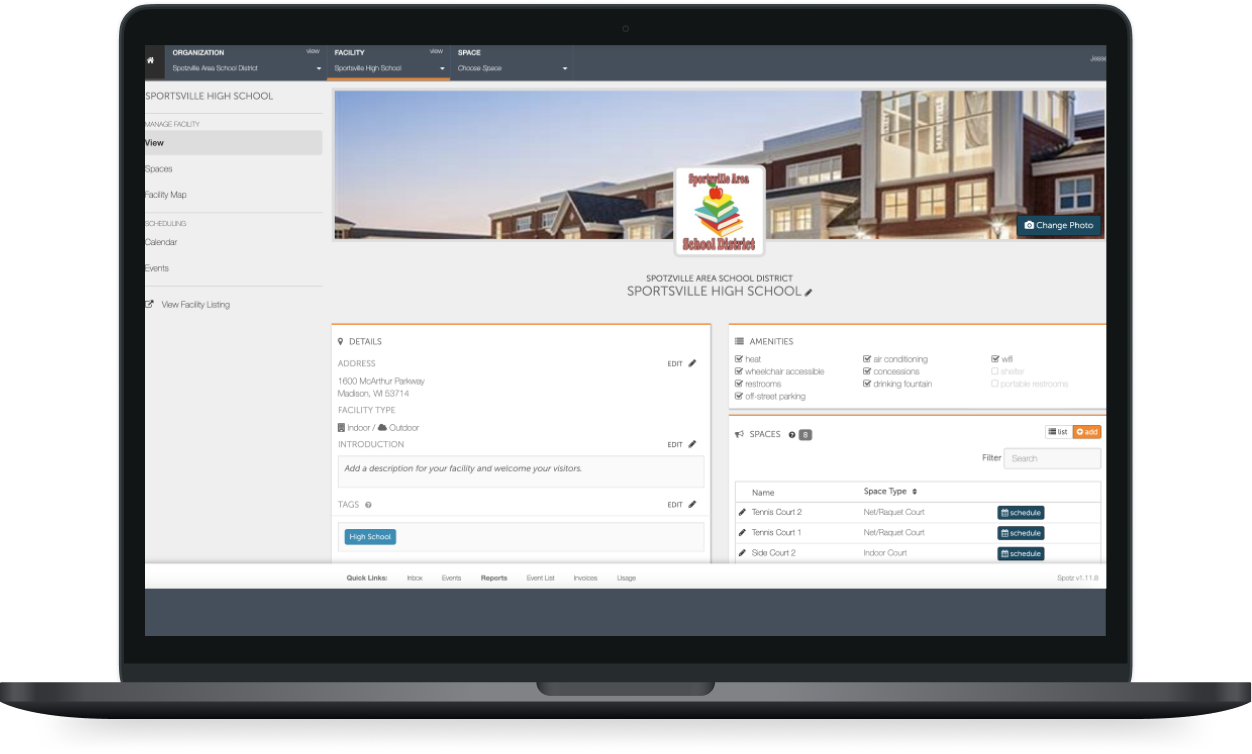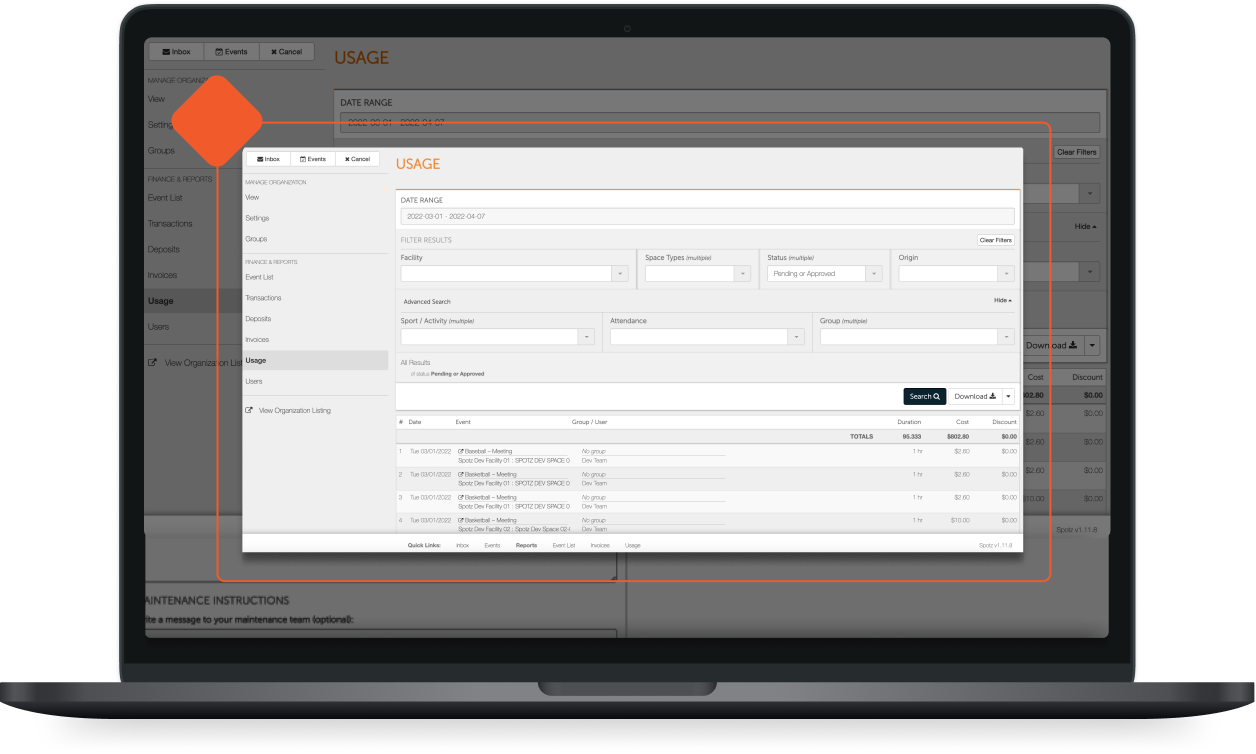 Run reports to spot usage trends.
See how often your amenities (i.e. basketball racks, conference room TVs, etc.) are used so you know where to invest your budget next year.
Improve visibility in your community.
Show your community members how many places they can engage with your business or organization. Uncover accessibility gaps and explore new connections when you open up your buildings for use in a safe, controlled way.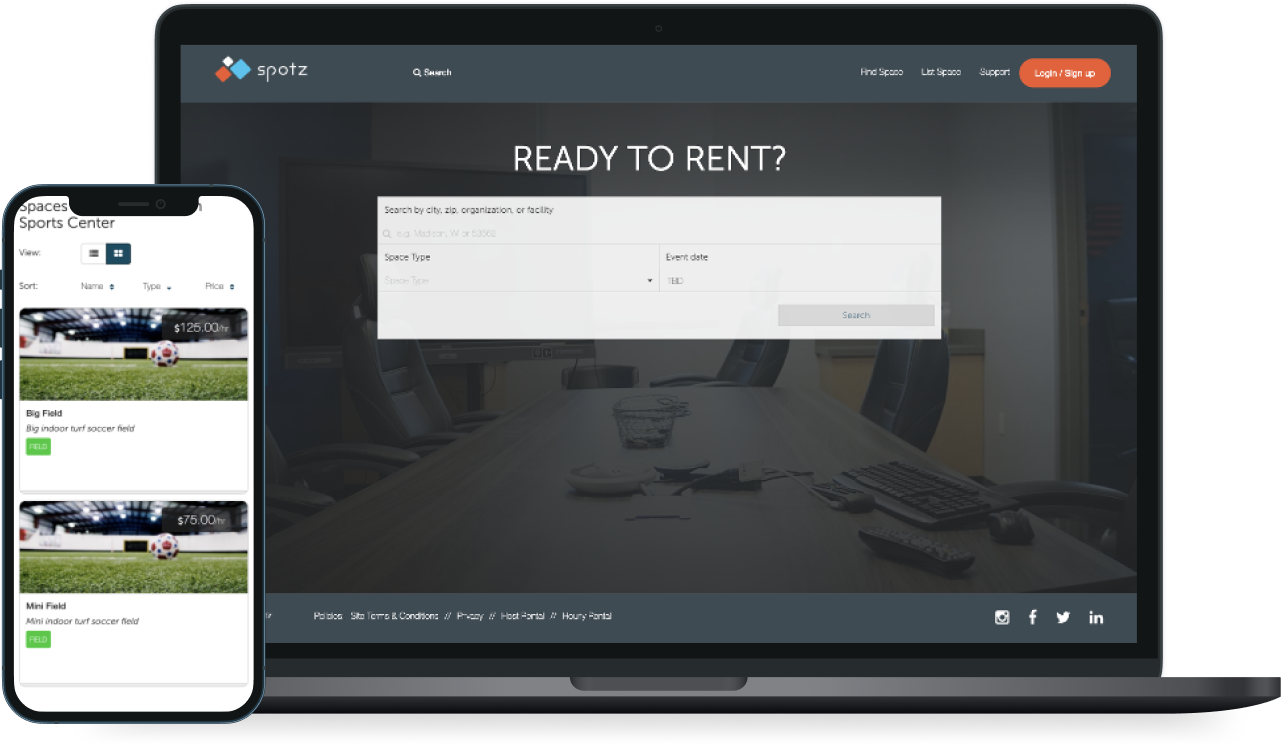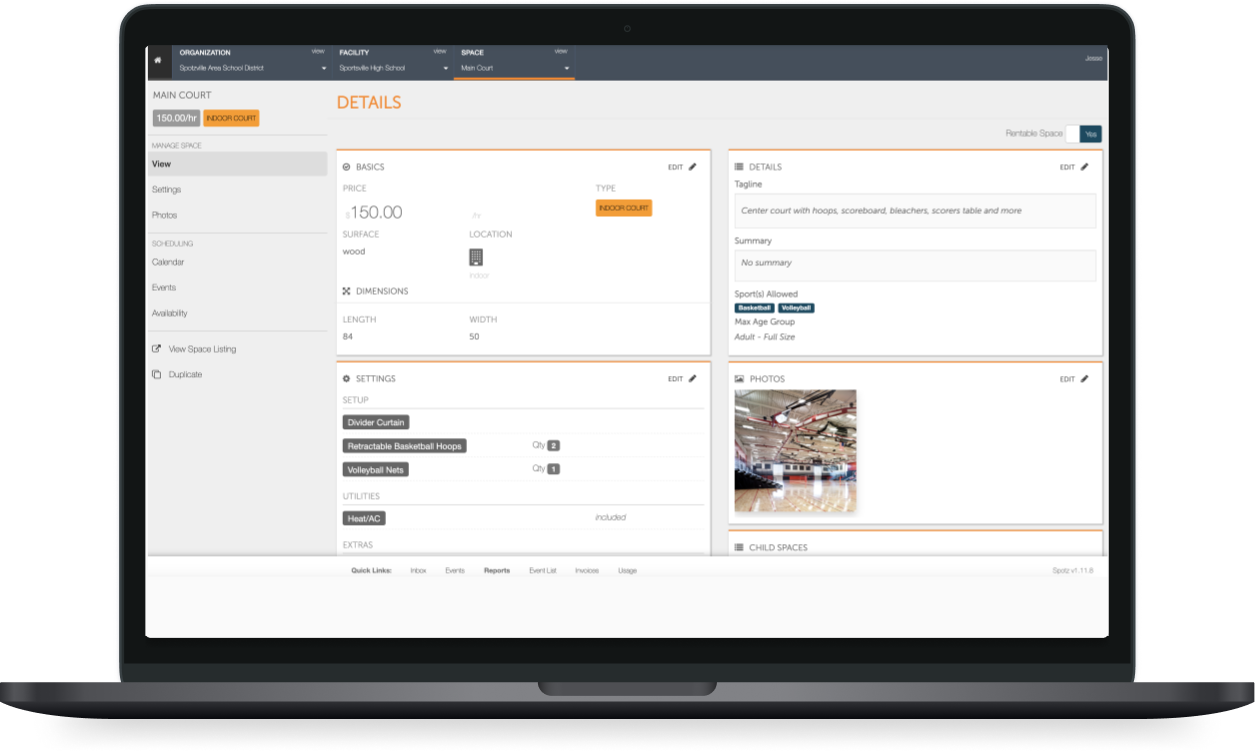 Generate new revenue with add-ons and flexible payment options.
Charge for equipment, field prep, permits, lessons, meal prep, and more. Charge by the hour or by the day.
"With our previous system, renters had limited insight into their reservations and we couldn't provide them with accurate, timely updates. Our internal processes were time-consuming and labor-intensive leaving our team to manually process paper submissions, review voice messages, etc. Not only did this affect our ability to communicate effectively with team members and customers but we also were unable to collect valuable data.

Spotz was easy to adapt, fast to use, and offers features that not only automated our internal processes but empowered our customers to manage and control their rental experience and communicate updates to their communities in real-time." – Mark Crosby
Easy Online Process Improves Customer Experience
Secure Single Sign-on
Your renters can log in to reserve a space with an email address or their social media account. They can use the same account for every location they rent through Spotz, in any city.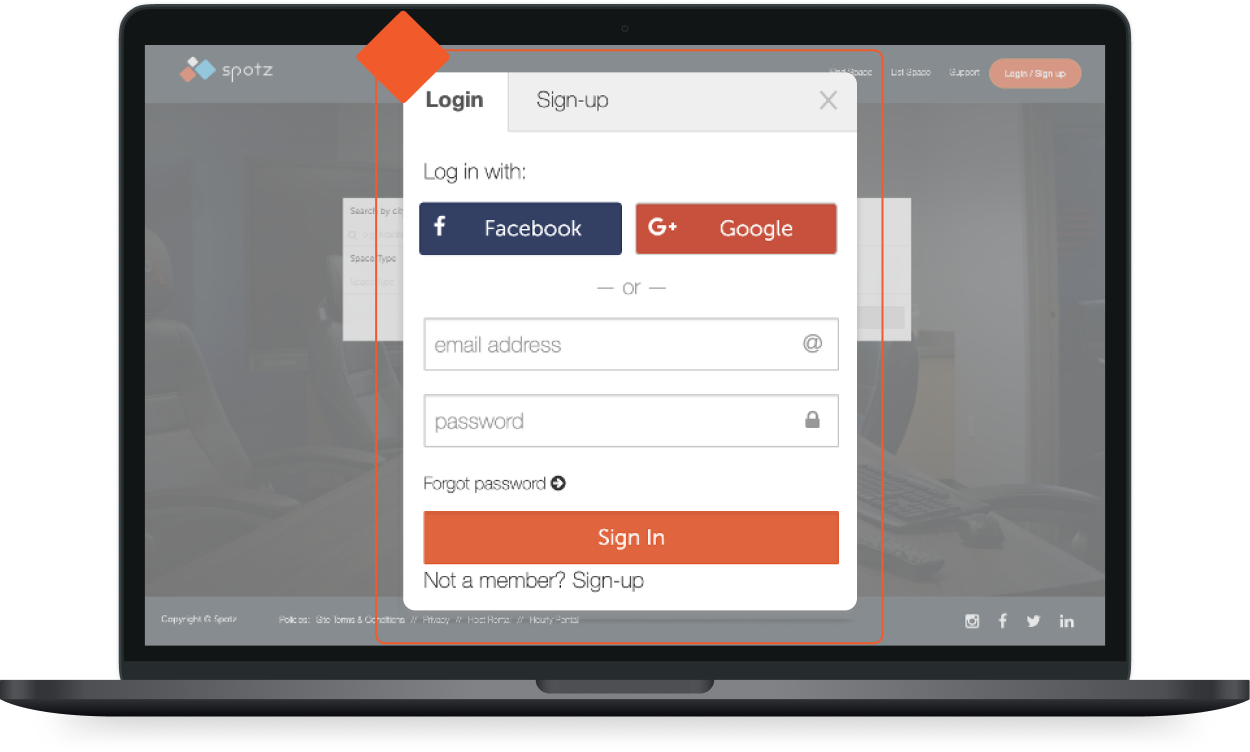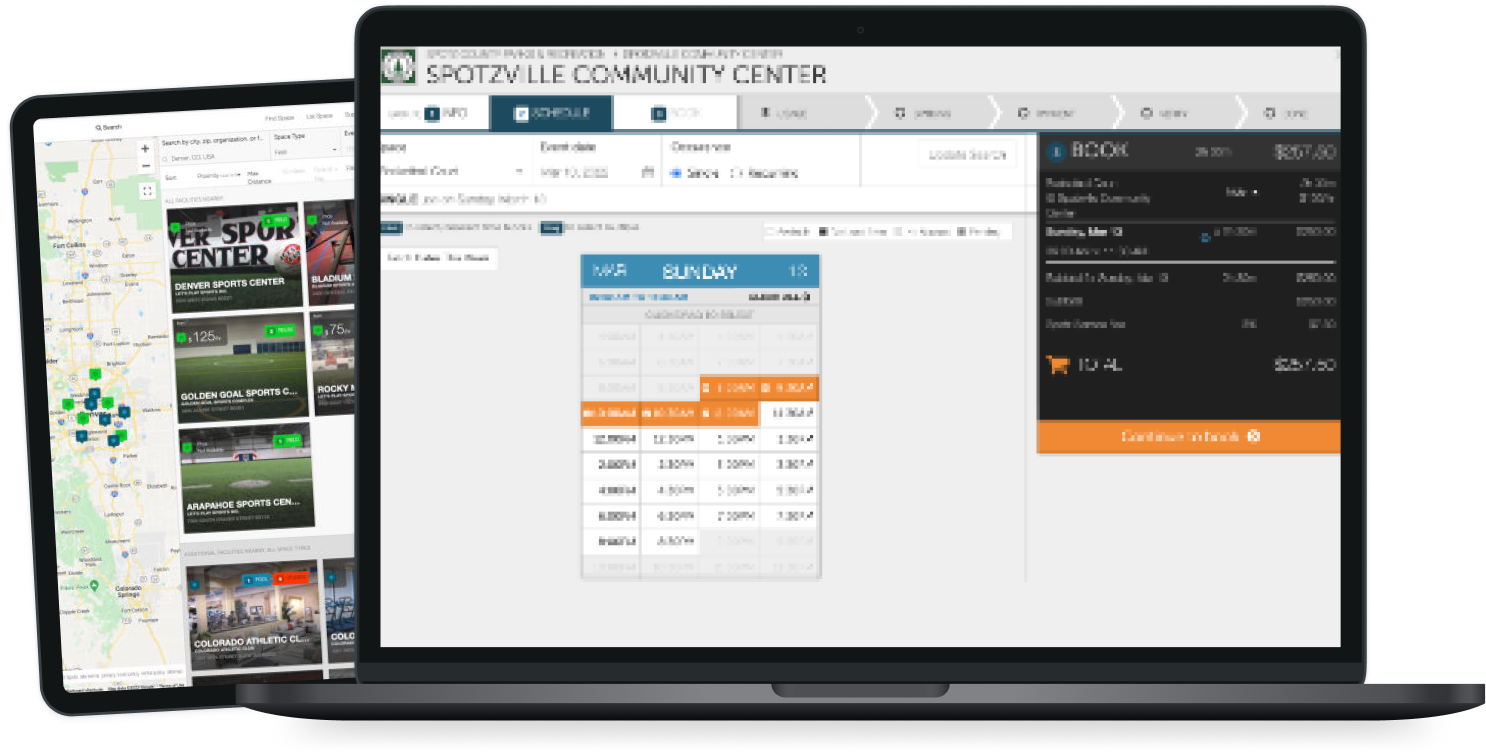 Online Booking
The entire booking is done online – no paper forms, phone calls, emails or office visits. Renters' credit cards are processed after the reservation is approved.
"With hundreds of thousands of park users each year, our new online reservation system provided by Spotz allows us to reach more users and provide a modern and effortless experience."
Host: Chris P.
Director
"Spotz streamlines the process it takes to schedule space, and allows facilities to monetize their assets and make sure their space is used."
Renter: Barry F.
Coach, Network Director
"6 out of 7 adults visited a park, trail, open space, or recreation facility at least once during the past year. We must continue to help agencies and communities improve access to recreational facilities and open spaces."
Host: NRPA, National Recreation & Park Association
"Before Spotz, we had to stand in line on January 2nd every year because the best venues were on a first come first serve basis annually and you had to book in person. Now we can go online, see availability, and book anytime."
Renter: Cheryl D.
Mom
"Spotz empowered our customers to manage and control their rental experience. My team can grant first right-of-refusal to specific groups and then open up those spaces to the general public with minimal effort."
Host: Mark C.
Parks Manager/Athletic Scheduler
"I manage and schedule all the USTA tennis matches in the area. I used to email back and forth with the various tennis court hosts to lay out our schedule. Now I can get the entire season scheduled on Spotz in minutes."
Renter: Kim R.
Business Owner, USTA Volunteer
"Spotz helped us streamline our process to be more efficient, effective, and productive."
Host: Jodi S.
Administrative Assistant, City of Superior
"Spotz helped us free up time and resources that can be redirected at improving other systems, parks, spaces, and experiences."
Host: Mark C.
Parks Manager/Athletic Scheduler
"Coaches like being able to reserve fields as soon as they want to. Now they can even throw in a last minute practice."
Host: Jodi S.
Administrative Assistant, City of Superior
Are you ready to experience a smoother rental process?