Concerns about the coronavirus disease 2019 (

COVID-19

) outbreak continue to grip our nation. Organizations, such as the National Recreation and Park Association (

NRPA

) and The Center for Disease Control and Prevention (

CDC

), are fighting to keep parks open as an essential resource for health and wellness.
Our inner clocks and seasonal calendars have us naturally prepping to head outdoors and plan summer events, but the recent COVID-19 outbreak is forcing us to rethink our activities. Cancelations, delays, ultra-cleaning, and social distancing are taking the place of spring practice, concerts, sporting events, and summer cookouts. As we retrain ourselves to adopt new habits and reinforce old ones to help minimize the spread of COVID-19, we can find comfort in enjoying our outdoors and park systems.
The CDC has flagged mental health as a top concern associated with the COVID-19 outbreak. The information noted in a recent NRPA statement recognizes that physical distancing may take a toll on our mental health, especially during high-stress and anxiety-producing global public health emergencies but that our parks may be the medicine needed to help get through the outbreak.
Spotz supports and agrees with the NRPA that parks, trails, and open spaces should continue to be used in a safe manner to allow for the mental and physical health benefits commonly associated. In all instances, we recommend people follow local, state and national ordinances and guidelines regarding the use of these spaces and recognize that these vary from community to community.
Click here to read the full joint statement released by the NRPA.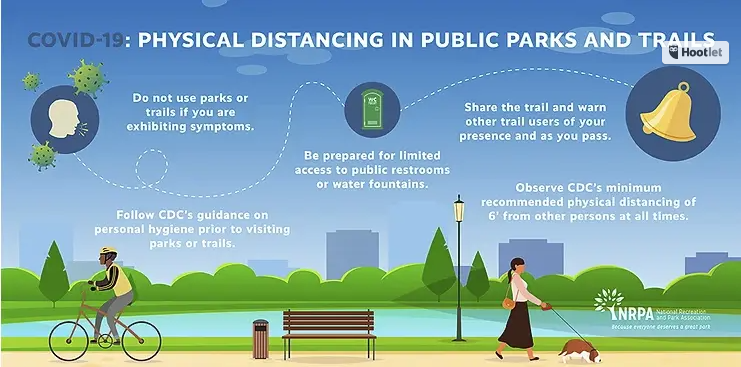 NRPA also recommends the following safety precautions when visiting and using local parks and open spaces:
Refrain from using parks or trails if they are exhibiting symptoms.

Follow CDC's guidance on personal hygiene prior to and during use of parks or trails.

Prepare for limited access to public restrooms or water fountains.

While on trails, warn other users of their presence and as they pass, and step aside to let others pass.

Follow CDC guidance on the recommended size of social gatherings including outdoor picnicking, pick-up sports and other group hangouts, and maintain proper physical distance at all times.

Observe CDC's minimum recommended physical distancing of 6 feet from other individuals at all times. If this is not possible, users should find an alternate location or depart that space.

Consult with their local and state ordinances and guidelines for the most up to date recommendations on park and trail use.
Hi, I'm James, CEO of Spotz. As a software as a service company that helps organizations like parks departments, schools, sports facilities and other small businesses manage and rent their community spaces, we know the impact COVID-19 has had on everyone.
We need our parks, our communities and each other now more than ever. If you need a lower-cost space management solution, more automated processing, or if you just need a better way to drive new revenue as we emerge from a difficult time, I encourage you to give Spotz a try. To show our support, we're waiving set-up and two months subscription fees for new customers who sign up by June 1st, when we all hope to discover our new normal. Book your demo today! Thank you and be safe.
Spotz is a digital space management solution that has unique features designed to make the lives easier for people who manage rentable space as well as those who need to find space to host their events.
We support the NRPA and it is our goal to empower organizations, communities, teams, and individuals to improve access to open space and recreational opportunities for all people.
Large Wisconsin Parks Department Books over 60,000 hours a year using Spotz!
Automation, accurate data reporting, and custom real-time communications with end-users allow them to keep their locations busy and community happy.
"Spotz allows us to automate processes and more effectively approve requests, manage locations, and create a better overall experience for the support teams, field crews and our community. Migrating to Spotz has allowed us to cut a 40% cancellation rate down to 2% since we no longer have to push out blanket cancellations. This ultimately means more people enjoying our locations and using our spaces."
Spotz's built-in hierarchy feature allows my team and I to grant first right-of-refusal access to specific groups and then open up those spaces to the general public with minimal effort. This means we can increase the amount of rentable space to more audiences, faster. This waterfall system means my team is no longer sitting on hundreds of requests and can focus our resources on creating better user experiences for all of our locations.
With our previous reservation system, we faced several challenges with functionality, space management and customer engagement. Users had limited insight into their reservations and we were unable to provide them with accurate, timely updates. In addition, our internal processes were time-consuming and labor-intensive leaving our team to manually process paper submissions, review voice messages, etc. Not only did this affect our ability to communicate effectively with team members and customers but we also were unable to collect valuable data.
Our new system Spotz, was easy to adapt, fast to use, and offers features that not only automated our internal processes but empowered customers to manage and control their rental experience and communicate updates to their communities in real-time"